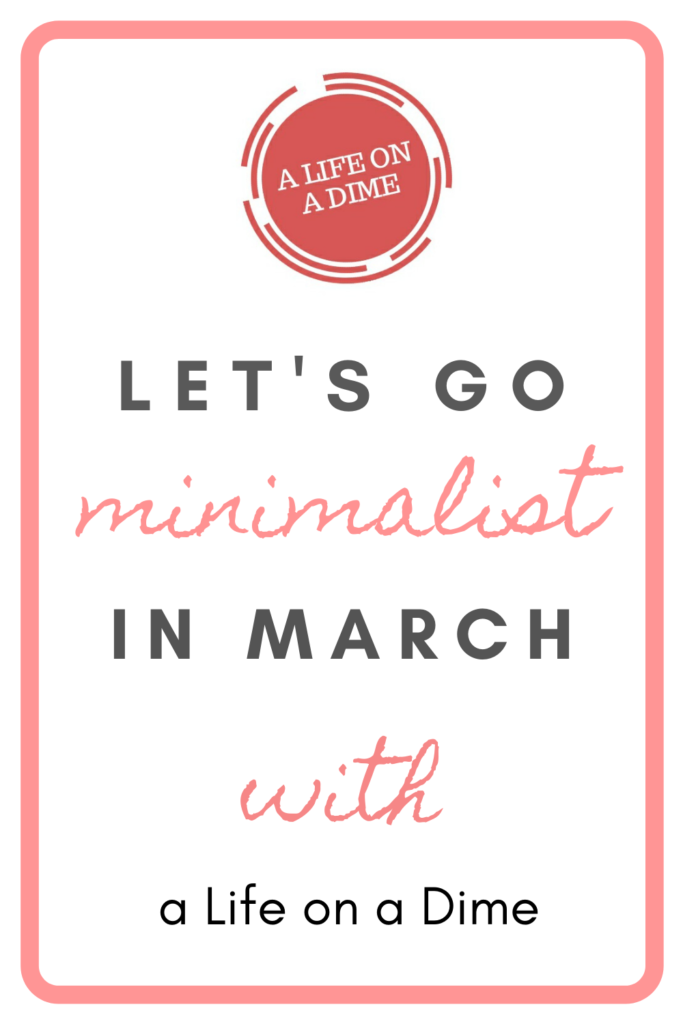 JOIN A LIFE ON A DIME AND LET'S GO MINIMALIST IN MARCH
I am so excited about March! No-Spend February is winding down and it's about time to start some Spring cleaning! Why not go minimalist in March with me? What better way to get into the Spring of things than to unload some clutter and make room for the new than to jump into minimalism?!
HOW A LIFE ON A DIME CAN HELP YOU GO MINIMALIST
If you need some extra inspiration to get into Spring cleaning or have been curious about minimalism (maybe even checked out my YouTube mini-series) or just feel it's time for some good old fashioned decluttering, then this is a great time to become a Frugal Friend!
What are Frugal Friends? Well, simply put Frugal Friends are subscribers to a Life on a Dime, but it's so much more than that! As a Frugal Friend, you don't just get post notifications (although you do get those), you also get a weekly newsletter with a free meal plan every Monday!
You also get a little extra motivation in your inbox during savings challenges, exclusive content, and a heads up on things to come from a Life on a Dime! What you won't get? Frugal Friends will never get sent emails just to tell you that you're paying too much for your phone bill or that you have to take advantage of this exclusive offer. I don't do that to my friends! I don't hesitate to click unsubscribe when it happens to me, so I sure don't want to do that to you.
Rest assured, if you become a Frugal Friend you can look for fun tips and motivation for the Minimalist in March challenge, weekly meal plans, but no spam. And to make it easy, you can just click the link to sign up as a Frugal Friend.
I plan to do some major decluttering in my house and will be sure to include you in the fun! We're a couple of months past Christmas. I'm sure the kids have already broken some toys and more than a few are collecting dust. And if you haven't worn that sweater from your Aunt Louise by now, you probably aren't going to. Why not get a good declutter going on?!
Be on the lookout for some clean/declutter with me videos, some checklists, and challenges to help. I don't know about you, but my house could sure use it right about now so let's just march right in with some minimalism!
WEEKLY EXERCISES AND TIPS TO KEEP YOU MOTIVATED
Every week I will announce a new little challenge or exercise pertaining to minimalism. Frugal Friends will get the scoop first, along with a little extra encouragement.
Go Minimalist in March will also take over the YouTube channel so be sure to tune in every Thursday! This might be a good time to get some Frugal Friends in on the fun. I sense a few collab posts and videos coming up!
FOLLOW #MINIMALISTINMARCH ON SOCIAL MEDIA
If you follow along with the weekly challenges use the hashtag #MinimalistInMarch on social media. A Life on a Dime is on Instagram, Twitter, and Facebook, so be sure to share your minimalist adventures with the hashtag! I'll post under it, follow it, and share some in my stories and tweets as well!
THE FUN STARTS MARCH 1ST
Frugal Friends can expect some details and tips beforehand. If you know anyone who might be interested to go minimalist in March or have questions, as always feel free to contact me. Bloggers looking to collaborate can fill out the Work With a Life on a Dime form and I'll be in touch!
If you're curious about minimalism you can check out all the Minimalism articles on the site.
IF YOU'RE STILL NOT SURE YOU WANT TO GO MINIMALIST IN MARCH CHECK OUT THESE VIDEOS
I have a short video where I address 5 Myths of Minimalism. There are a lot of misconceptions about what it is and isn't. Here are 5 things it definitely isn't to help clear up any confusion! It'll take no time at all to watch and should answer some of your questions.
And since I've outlined 5 things minimalism isn't, I also have a video on 5 real Benefits of Minimalism that can come from adopting minimalism just in case you're still not sure about giving it a try. It just might convince you.
And, if you decide not to become a full-fledged minimalist the worst that can happen is a little less clutter in your Spring cleaned house. Let's give it a go, shall we?!