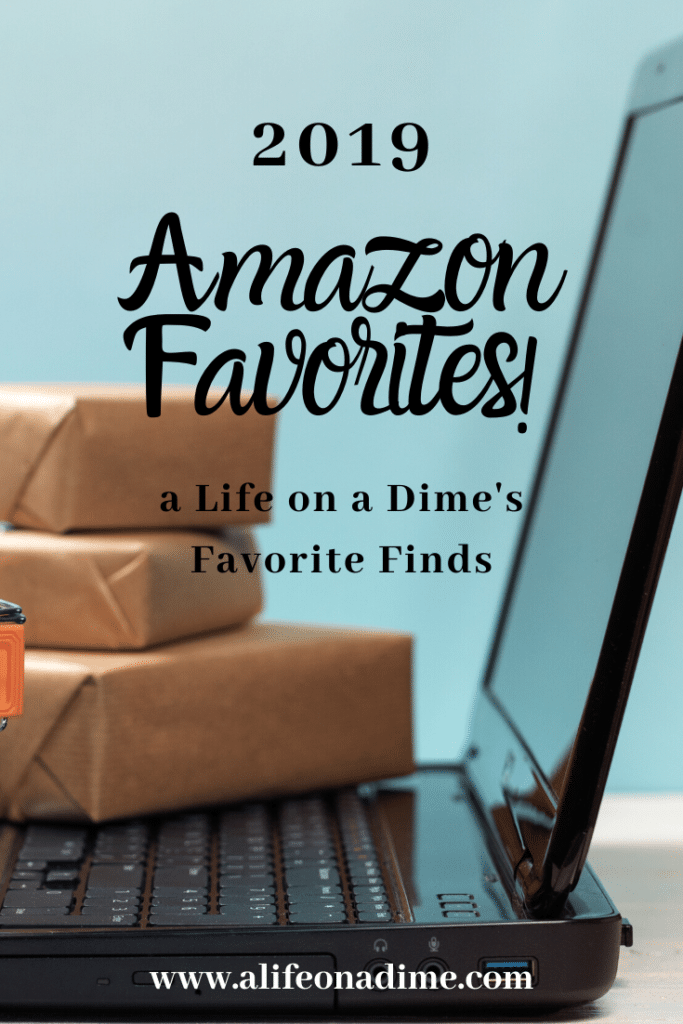 a Life on a Dime's Favorite Amazon Finds This Year
Since I am just about done with Christmas shopping and not really interested in any spoiler alert posts showing what I've done for everyone, I thought it would be fun to do a post on my favorite Amazon finds from this year.
*This page contains affiliate links. At no cost to you, I earn a commission if you make a purchase after clicking my links.*
We have really enjoyed our Amazon Prime this year! Besides being our main source of streaming entertainment, Prime has also come in handy for all of our frugal and sustainable purchases this year.
If you don't already have Prime, you can sign up for a free 30 day trial or gift someone on your Christmas list with a three or twelve-month Prime membership.
Since shopping without kids in tow isn't usually an option I have relied more on more on two-day shipping. I don't really enjoy shopping like I used to (or spending lots of money for that matter), and trying to shop with a budget while keeping up with kids isn't exactly my idea of a good time! Here are some of the Amazon items I've really enjoyed this year.
Favorite Amazon Finds in the Kitchen
Stainless Steel Straw Cups
This is one of my favorite examples of how frugal isn't cheap so far this year! I admired these stainless steel straw cups for a few months before finally adding them to my cart. The kids love them too! As a bonus, typically when I pull these up there is a 5% coupon to be applied at checkout.
I was surprised at how easily our two-year-old adjusted to drinking from a straw; we'd had a few messy experiences prior to purchasing them. Now I just use his last two remaining plastic sippy cups as a backup in his bag just in case. I am leaning toward getting some portable stainless steel straws to use instead.
These cups are handy for multiple children because all five are a different color. The stainless steel tumblers also have a silicone lid, wrap for easy gripping, and silicone sleeves at the top of the straws. The last part is one of my favorite features; they can't chew these straws up easily OR hurt their little teeth on the steel straw.
Reusable Bags
I got so tired of buying zipper bags for snacks and lunches. They're cheap, but every month or two they made it on the list and one by one into the trash they went. It just seemed like a waste.
As I shifted to a more minimal, frugal, and sustainable approach in the kitchen this summer I resolved to stop buying most one-time-use products in the kitchen. This included zipper bags, aluminum foil, plastic wrap, and paper towels.
See Also: 10 Things Minimalists Don't Waste Money on and You Shouldn't Either
As I started looking at replacements for these I came across these reusable storage bags. They were definitely worth the small investment. These little bags are sturdy, easy to clean, and zip well enough to put raw meat in. I just can't include them in my first grader's lunch bag; one did make its way in the trash.
My husband uses them every day in his lunch for his chips since we stopped buying single-serving bags. It is worth noting if you have really pigmented chips there may be some color transfer; I bought salsa flavored chips and one of the bags was left with a slight orange tint afterward. This is still a product I would definitely buy again, especially for the price.
Silicone Baking Cups
I finally used up my stash of paper baking cups. I have yet to replace them with a reusable option, but I have these gems saved to my Wish List and plan to move them to my Shopping List once the January budget is finalized.
There are a total of 36 liners in different shapes and colors in this set which makes it a winner in my book. In addition to baking, I plan to use these in my daughter's lunch containers (next item on the list) to make a bento-style box lunch for her.
Stainless Steel Food Containers
I bought a nesting set of stainless steel bowls to contain everything from sauces, morning snacks, to my husband's daily yogurt ( as mentioned earlier, we have eliminated daily single-use trash from his container). Sometimes they even get used for small amounts of leftovers.
We also have a set of stainless steel sandwich boxes to use and they have worked out very well too. They're durable, easy enough for my daughter to open, and travel well. The exact ones we bought are not currently available, but these look like a good alternative.
Pioneer Woman… Anything
I LOVE Pioneer Woman! Last Christmas I was given a set of tea towels and have been admiring her stuff all year! I purchased the stainless steel measuring cups and spoons as part of the continuing phaseout of plastic in our kitchen.
We are down to two stoneware mugs after declutters/purges/a few broken handles and would love to buy this set of four next year for hot teas. Stainless steel is fine for drinking coffee, but for hot tea I just prefer stoneware.
Favorite Amazon Finds For the Kids
Ride-on Tractor
We purchased this adorable ride-on John Deere tractor for our son's second birthday this summer. While his little hand was recovering from orthopedic surgery we eventually brought it inside for him to be able to play with since he couldn't play outside much.
At first, we just wanted him to be able to have a little supervised fun in a clean environment. We were also afraid he'd outgrow it before he healed up. He's all healed up now, but the tractor is still in the house. It has provided a lot of entertainment!
No Tie Shoelaces
When we purchased new tennis shoes for back to school over the tax-free weekend there weren't a lot of in-store options. The only shoes my daughter really liked and I thought she'd actually wear had shoelaces that tied. Very long shoelaces.
She isn't very good at tying shoes yet either. After the first week or two of school, I knew no-tie laces were in order. These have been lifesavers. Even better, they come in a two-pack!
Waterproof Mattress Pad
This favorite Amazon find is pretty self-explanatory. It has worked rather well.
Favorite Amazon Finds in Health & Beauty
Eco Frenzy Kids Bamboo Toothbrushes and Toothpaste Squeeze
My kids love using their bamboo toothbrushes. I love using more eco-friendly products that fit in my budget!
We also have these handy dandy toothpaste squeezes that help get the last of the toothpaste out of the bottle. Even when you think you've gotten all you can, pop one of these on and get a few more days worth of brushing!
Bamboo Wrapped Vial Jars and Roller Bottles
It is no secret that I love a good DIY! I also love frugal items of good quality to store them in! I have had my eye on these vials and rollers wrapped in bamboo for oily DIYs for a while.
These Diffusers
I was cheap when I bought my first diffuser; it now sounds like it is trying to go somewhere every time I turn it on. I am honestly surprised it still turns on every day.
I really want a Dessert Mist, and love the owl diffuser in our son's room (which I need to be more intentional about using) but since it would be nice to have multiples so I didn't have to unplug and move the same one for use in other rooms. I'd prefer to leave one in each bedroom and one in the kitchen.
This set of two diffusers is a great deal and comes highly recommended on several of the oily soical media accounts I follow.
Favorite Amazon Finds for Vlogging on YouTube
This list is pretty small this year. Next year I'll have a better idea of what I need and like to use for my YouTube videos. Be sure to check out a Life on a Dime's channel on YouTube. Let me know what you think! Be sure to like and subscribe if you enjoy the content, and be sure to click the little bell so you can receive notifications when new videos are uploaded!
Tripod Stand with Ring Light
This beauty came recommended by a blogger and social media coach I follow on Instagram. I love the rose gold color of the tripod and the fact that it has a ring light included.
I am relatively new to YouTube, and needed a good, sturdy tripod in order to up my game. There was also the fact that I also knew I might want to upgrade to a remote and ring light later on, and this has both! I recently ordered this USB adapter so my phone will work with the remote.
What are your favorite Amazon Finds of 2019?
I'd love to hear what awesome, frugal products you've come across this year! You can check out the full list of items I recommend here. As I continue to switch over to more frugal and sustainable items you can be sure to see more posts and more items I recommend in the new year!
I'll be back next week with a few more Christmas related posts as well as the weekly newsletter and meal plan going on out on Monday! If you haven't subscribed yet you can do that here now! Until then, stay frugal my friends!