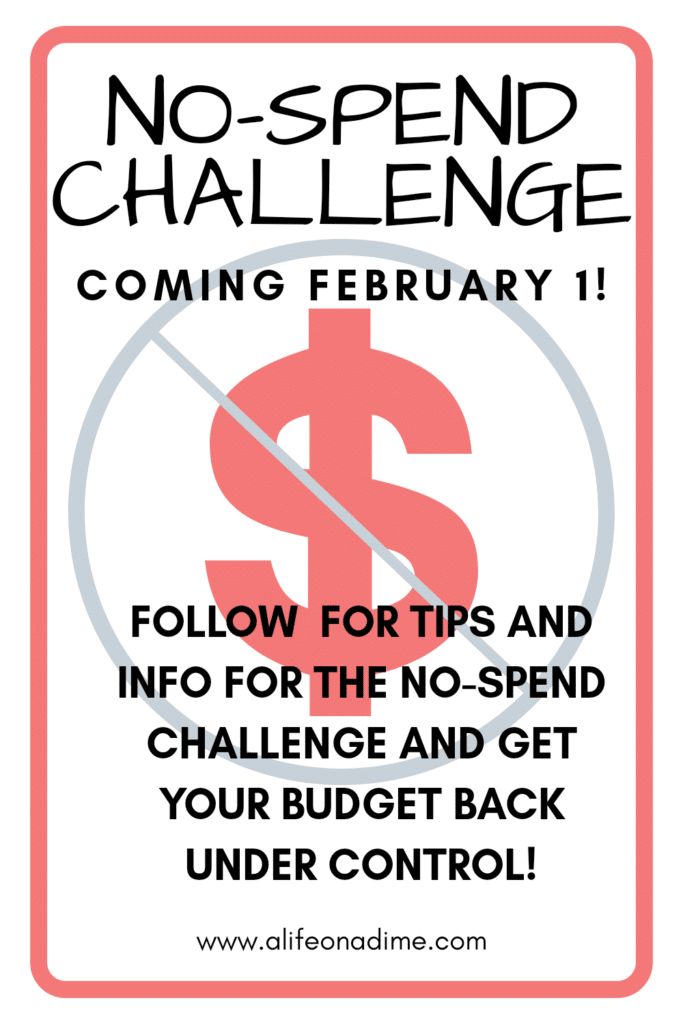 TAKE BACK CONTROL OF YOUR FINANCES IN THE NO-SPEND FEBRUARY CHALLENGE WITH A LIFE ON A DIME!
You may have seen #NoSpendNovember or #NoSpendJanuary challenges floating around on social media. Maybe you opted out because you were overwhelmed with the thought of a no-spend just before the holidays. Or you may have felt too defeated after the holidays. Great news! January is almost over. You've had a breather from holiday expenses; now is the time to take back control of your finances! Do that with a Life on a Dime's No-Spend February Challenge!
*This page contains affiliate links. At no cost to you, I earn a commission if you make a purchase after clicking my links.*
Whether Christmas got out of control or you need to build up emergency or sinking funds, this is a great opportunity! It can also be an eye-opener when it comes to your spending habits. You won't only see how much you CAN save in a month; you'll also see how much money you spend on impulse or unnecessary purchases. Not only that, but it also gives you a chance to change your spending habits for the better!
HOW TO PARTICIPATE IN THE NO-SPEND CHALLENGE
First, let's define a no-spend challenge; it is simply a set amount of time in which you eliminate certain spending. We still have to pay the mortgage or rent and feed the kids, but there are more spending categories you can do without or put a lower cap on than you might realize.
I outlined a few tips for success in 3 Tips to Survive and Succeed in a No-Spend Challenge. It would come in very handy in February! It lays out the basic idea of a no-spend challenge and how to make it work. For this challenge, I'll be participating with you and sharing my progress, tips, and advice on the blog. I will also be sharing on social media under #NoSpendFebruary, and via the email list. If you're not subscribed to the blog now is a great time to sign up. You'll get your free weekly meal plan!
Speaking of social media, are you following a Life on a Dime on Instagram, Twitter, and the Facebook page? You'll definitely want to during this challenge! It'll offer motivation, encouragement, and accountability! If you'd be interested in a YouTube video on no-spend let me know.
GUIDELINES TO THE NO-SPEND FEBRUARY CHALLENGE
Before starting a no-spend challenge it is important to lay out the guidelines. Sit down with your budget and determine what spending is allowed. Examples of required spending include mortgage/rent, utilities, insurance, groceries, and fuel.
After determining which expenses are allowed start determining which aren't and if there are any one-time exceptions. For example, if you plan to cut dining out for the no-spend challenge but want to keep your annual Valentine's date with your honey you can. Just include that PRIOR to the challenge.
Look at the calendar this week in order to ensure greater success next month. If you forget something and allow it you're more likely to allow other expenses that pop up. Plan ahead and avoid that!
I'm going to make this easier by including my household's approved spending and what we're cutting out for no-spend February. This will give you a better idea of how this works and to help you frame your guidelines.
ALLOWED SPENDING IN A LIFE ON A DIME'S HOUSEHOLD DURING THE CHALLENGE
Mortgage – Because we have to have a place to live obviously.
Utilities – Might as well keep the lights on and the place warm.
Insurance – We have cancer, life, and auto insurance. Our health insurance is deducted from hubby's pay.
Groceries – This category will be restricted. See the details in the restricted items section.
Toiletries – Shampoo, conditioner, deodorant… Things you need so other people can stand to be around you.
Prescriptions and necessary OTC items – I like to use natural wellness options. You can see what we stock our medicine cabinet with here). This includes my monthly wellness box from Young Living. We get some of our supplements and toiletries through them.
Kid supplies – Such as pull-ups and wipes since someone is resisting potty training.
Mama's Friend Date – A friend and I made the commitment to get together more often. We had a very rare lunch date (SANS KIDS!!!) in December. When we parted ways we set a goal to get together in February. This is an expense I'm deeming allowed and necessary for my sanity! Social circles close a bit when you are a stay-at-home parent if you let them. Don't shut yourself off! You don't have to spend a lot of money; just make the effort to prioritize time with your friends.
Gym Membership – I have the $10 Planet Fitness membership. It doesn't break the bank and I now fund it with my side hustles. Typically. I just need to go more often.
BANNED SPENDING IN OUR HOUSEHOLD DURING THE CHALLENGE
Clothing – with the exception of socks and underwear – I plan to restock at the rate of one or two pairs of socks a month. I had not purchased basic socks in almost 10 years prior to this winter so I'm okay buying a new pair or two.
Makeup and Jewelry – I don't buy these often, but I am including them as I've had my eye on a good lipgloss for a while.
Dining Out – We typically eat pizza at home for Valentine's day and I think we'll continue this tradition.
Alcohol – I am allowing an exception for Valentine's day as it is part of our pizza tradition. This works well with my goal to drink more water and watch my weight anyway.
Entertainment – We don't typically spend money in this category on a monthly basis since only rely on our Prime membership, but I'm going to add it in. This may be one of your big expenses.
Toys and Games– This one isn't usually something we spend a lot of money on, but I'm including it just in case.
RESTRICTED SPENDING IN OUR HOUSEHOLD DURING THE NO-SPEND FEBRUARY CHALLENGE
In addition to not spending money on these categories, I also plan to reduce other areas of our budget to maximize our savings potential.
Preprepared Meals and Snacks – This is a big one in our house lately. I buy frozen chicken nuggets on an almost weekly basis for the kids and we buy a lot of snacks. We buy snacks at the grocery store and the hubby buys snacks in addition to his packed lunch on an increasing basis. We're nipping this in the bud in February! If we want more than the food typically packed for hubby's lunches and kids' one snack a day we'll have to make something! By we, I mean me, so this will definitely be a challenge.
Household Items – This is a category I've already cut back on making my own cleaning products, etc. See the DIYs category if you're interested in doing that yourself. I will make an effort to be even more mindful. I will purchase items only when I need them rather than making "just in case" purchases.
In-between Grocery Day Purchases – You know what I'm talking about; those "must-have" items that didn't make the weekly shopping list you're tempted to just "pop in" and pick up from time to time. Are they really necessary? Usually, they're not. I've found Google to be immensely useful when I realize I'm missing a "key" ingredient in a recipe. We really can make it three days on two rolls of toilet paper. That unplanned trip usually results in more than just the one or two "must-have" items you went in for in the first place. I have a habit of popping into the store near my gym for one or two things when I'm out. I come out with more than just the planned one or two items at least 50% of the time. Not this month!
I'M ASSIGNING NO-SPEND HOMEWORK TO BE COMPLETED BEFORE FEBRUARY 1:
Sit down with your monthly budget (you have one, right?) and determine what will be allowed, banned, and restricted spending in February. For bonus points, take it a step further and post it on social media with the #NoSpendFebruary so I see it. Give yourself the added layer of accountability of your friends seeing it too.
After you determine that set your savings goal. Your goal may be to pay down debt, increase savings, or take a trip this summer. Then reaffirm your "why." You need it in order to stay motivated. You can take a look at my "why" here.
If you have a savings goal, your "why" might be that you want to be sure you can provide for your family in the event of illness or job loss. You need the security of having a fully-funded emergency fund. Reminding yourself why you need it helps keep you motivated to reach that goal.
If you want to go on vacation your "why" might be that your kids have never experienced the seashore and you want them to feel the sand between their toes and smell the ocean air like you did growing up on summer vacations. Focus on your "why" and it will help you when you're tempted to hit the drive-thru after a long day or make that impulse purchase.
After that be sure to subscribe so you don't miss the tips, advice, and updates for the February no-spend challenge as they come on the blog and the email list! I'll also post under the hashtag on my social media accounts regularly.
YOU HAVE YOUR ASSIGNMENT
You have your assignment, so get to work! If you have any questions don't hesitate to contact me. I can be reached through the blog or on social media. Be on the lookout for more savings and no-spend related articles on the blog! I've also planned a minimalism series on the YouTube channel! Just an FYI. I have lots of great video ideas for you. That's it for now folks. You have homework – get to it! I'll be back Monday with the weekly newsletter and meal plan.