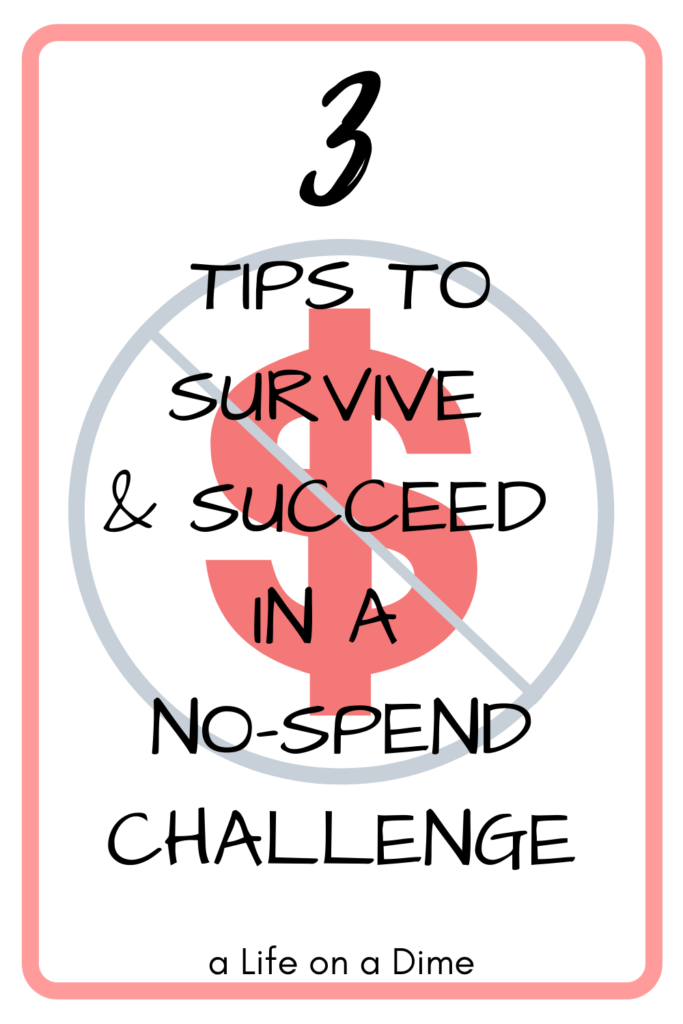 No-spend challenges are more popular than ever. If you've ever thought about doing a no-spend challenge now is a great time to get started! Save up some money for Christmas if you haven't already, put the money saved toward your debt, or add it to the emergency fund. And for #blogtober day 2 here are my top 3 challenges to help you survive and succeed in a no-spend challenge!
*This post contains affiliate links. At no cost to you, I earn a commission if you make a purchase after clicking my links. *
Set a Realistic Time Period for Your No-Spend Challenge
Setting an unrealistic goal for your first no-spend challenge will set you up for failure before you start. If you've never done one or are prone to spend freely start small; try a no-spend weekend challenge and see how you do. If it goes well continue on into the next week.
There are some pretty amazing families on Instagram doing a no-spend year. If you want some major inspiration this is a great hashtag to follow. It should also help you out of your funk if you think you may not survive your first no-spend weekend!
Set Clear Guidelines for Your No-Spend Challenge and Communicate Them with Your Spouse or Partner
Obviously some money may have to be spent depending on the timing of your challenge. Bills do still have to be paid. So, utility bills, mortgage/rent, and other necessities such as gas and groceries are allowed if your challenge falls around due dates or lasts longer than a weekend.
So, essentials are allowed, but meals out, coffee runs, new clothes, mindless scrolling online at shoe sales aren't. Clear enough? No-spend looks different for everyone. Just make sure you have set clear guidelines for your challenge and that everyone participating agrees on the rules. Communication is key when it comes to surviving and succeeding.
Make a Plan for Your Challenge
And then follow through. If you're a social person make sure that your crew knows you're not getting out that weekend. Make sure they don't ask because you don't need the temptation! Some people pick a weekend and stay home, watch DVDs, and bake or curl up with a good book and a cup of their favorite homebrew.
Some people do a no-spend challenge during the week and go to their 9-5 but skip the Starbucks line on the way into work and pack their own lunch. Then go home and cook a nice dinner and eat as a family. Take a trip to the library at lunch and find a few new books to read. This time of year is also awesome for getting out and appreciating the changing season; go for a bike ride or take a walk as a family.
This is a great opportunity to break out the board games, old family movies or photo albums, and reconnect with your loved ones. If your fridge and pantry are well stocked invite your friends over for dinner to hang out. If they aren't you can organize a potluck! Invite your friends to join in on the challenge with you and encourage and hold each other accountable!
Once you have your first successful challenge take advantage of the momentum and plan your next one! If a short weekend no-spend went well pat yourself on the back, send money toward your goals, and keep going! Practice your newfound discipline every day going forward to avoid impulse spending going forward; it can be so easy to get done with a no-spend challenge and then go crazy buying what you think you missed out on during the challenge. Don't do that! Schedule the next one and make it last a little longer! And let me know how it goes!
Let Me Know How it Goes!
If you want more information on a no-spend challenge there are lots of great books and guides available on Amazon with more information and insight on the topic. Make sure you're prepared going into your challenge so you can succeed. Just don't buy one during your challenge, because that would defeat the purpose!
I would love to hear your successes in a no-spend or offer any help if you have trouble. If you've ever done a successful no-spend challenge and have tips of your own to add let me hear them! I would love to hear from you.
You can leave a comment with any questions or find me on Instagram, Facebook, Twitter, and now YouTube. Be sure to follow along and subscribe for more tips and content. Good luck! I will be back tomorrow with more new content for #blogtober day 3! Hope to see you then.
This post was proofread by Grammarly