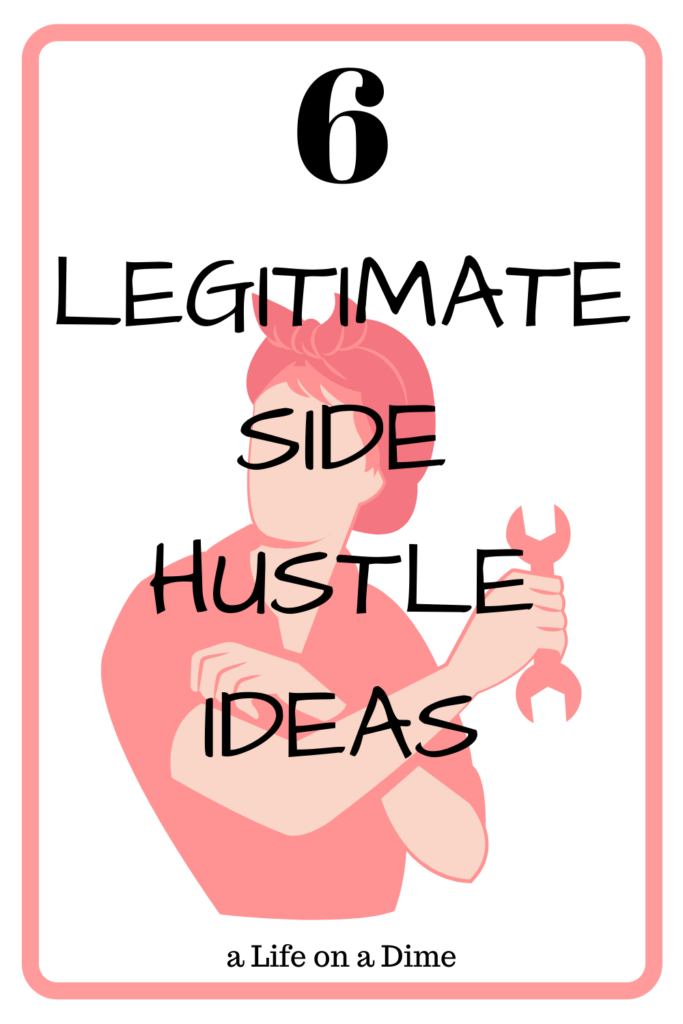 6 Side Hustles to Increase Your Income and Pay off Debt or Increase Savings
Need a side hustle? There are lots of ways to get your hustle on these days ranging from the traditional (second, part-time job) to the unconventional (reward points websites, survey sites, transportation). Here is a look at ways to increase that important emergency fund, make a little spending money, stretch your budget, or pay down debt sooner.
Side Hustle #1: Traditional Secondary Employment
If you have a fairly predictable schedule at your day job, or if you are the stay-at-home parent and your spouse does an evening/weekend side hustle may be a good way to go. My husband works Monday-Friday as a Survey Party Chief and has a retail side hustle on the weekends. This second job has reliably brought in between $400 and $600 a month. This is roughly the equivalent of what I made part-time last fall but does not require childcare, which can quickly eat up part-time earnings.
If childcare is necessary it will prove beneficial to look at what is available in your area. Find options you are comfortable with and look at their schedule and rates. This will give you an idea of what hours you need to work your side hustle as well as how much per hour you will need to earn in order to cover the cost of childcare and bring home some bank.
This may take some time and creativity, but it is crucial to make sure you will keep some of that paycheck. If you don't you could end up losing money. I know I did toward the end of my part-time employment last year.
Thankfully my husband was given a well-timed raise that was more than equivalent to my take-home pay. This allowed us to have the same or higher income, continue on with the home loan process on our build, and quit paying childcare. Once the house was finished we wanted a little more wiggle room in the budget, hence his side hustle.
Common areas of traditional part-time employment include retail, package handling, food service (waitstaff, kitchen help, bartending), childcare (as a bonus you may get free or discounted services for your children and take them to work with you), and answering phones in the evening and overnight hours (think hospitals, emergency services, etc).
#2: Freelance Your Talents
Think of what you're good at. Play the piano or another instrument really well? Maybe you have a great singing voice. Can you teach others to play/sing well too? Hang your hat up as an instructor.
This is a side hustle that would require little to no upstart expense and can be done in your home. Schedule lessons during the kids' nap or quiet time. Post your services on social media, Craigslist, or simply spread the word at church and in your circle of friends. Put up flyers at school or local community centers.
Be sure to call around to local music shops or look at other local listings to make sure you are charging a competitive rate and not selling yourself short.
If you have a talent for graphic design and own your own software you can moonlight on sites such as Fiverr as a freelancer designing logos and other items. If you're good at writing you could become a freelance writer. Submit samples of your writing to freelancing sites, set competitive rates (again, this may take some research), and sell your services online.
If you have a Bachelor's degree and experience teaching you can become a VIPKid teacher. This can be a very flexible form of income either as a full or part-time gig.
You don't have to be a formal teacher either. If you are good at certain subjects you can market yourself as a tutor. Offer your services at the local library or community centers and in the fall let the local schools know your credentials and contact information.
Tutoring services can be expensive. Most parents will gladly try assistance through word of mouth recommendations before racking up considerable new debt with professional services.
#3: Make Your Car Pay for Itself
If you have a nice, newer car but are making payments on it why not make it help pay for itself? Look into driving for Lyft or Uber. If you aren't comfortable with the idea of having strangers in your car look into becoming a delivery driver. Craigslist usually has several listings on our local page for services such as DoorDash and Waitr. These services supposedly pay $16 an hour. You can also become a delivery driver (or buyer) for Instacart or the local pizza place.
#4: Babysit
If you have friends with kids who are getting their side hustle on or going back to work why not offer your services? Childcare can be expensive. You can set your rates below what centers would charge and save your friends some money while earning something extra on the side yourself. It's a win-win situation! Plus you can also keep your kids entertained while their friends are over and get some social interaction without leaving the house. Sites like Care.com can make it easy to offer your services to local families. You can even sign up on the site to offer other odd jobs.
#5: Surveys
This may not provide a lot of income but it can provide some fun money and gift cards based on purchases you already make.
Review Wendy's for a Secret Diner! Click Here!
Survey sites such as InboxDollars pay you small amounts of cash for taking surveys in your downtime. You get paid anywhere from ten cents to a few dollars to answer questions and review potential new products. You should always see how much money a survey will pay and how long it will take to complete before selection. It's an easy side hustle that may not pay much, but can get you a bit of spending money. You can typically cash out once you've earned $20.
I recently signed up to participate in taste testings through Food Sciences at the local university. Twenty minutes of my time can yield a $20 Walmart gift card. This is a pretty good, easy side hustle option to supplement the grocery budget or make a few discretionary purchases I wouldn't prioritize in the budget. One thing I recommend is to keep your availability open and offer to do testing at times most other people would be at work to increase your chances of getting scheduled for testings.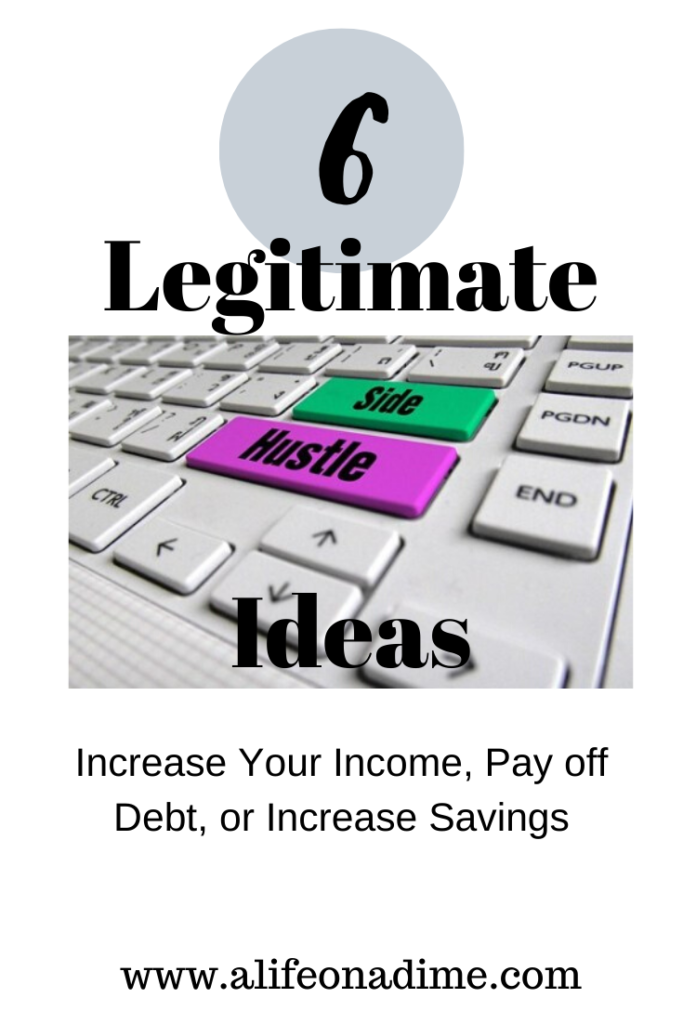 and Side Hustle #6: Cashback Apps
Cashback apps such as Ibotta, Fetch, Swagbucks (which also has surveys), and Ebates offer cashback or "swag" for items you are already purchasing. There are signup bonuses offering up to $10 just for signing up! It is important to note that you will only come out ahead on these apps if you do not make additional purchases just to get cashback rewards. If you typically buy a generic brand of pasta for 65 cents less than the name brand it will do no good to buy the name option at the store to redeem 10 cents cashback. You lose money that way.
It is also important to note that if you want cash back for online purchases you have to enter the store site through the cashback site or app. If you use more than one cashback site it will benefit you to check how much cash back you get for certain sites on the different apps so you shop through the highest rewarding one.
Again, don't shop for points or cash back if you don't need the item or wouldn't spend the money otherwise. While these apps likely won't go far to pay the bills and don't technically qualify as a full-on side hustle you can redeem points for gift cards to stores and on purchases, you want to make that don't fit in the budget. That can be a nice little reward on your debt-free/frugal journey.